These days nobody wants a complete stranger entering their home to do recording. And, with all due respect, I'd rather you didn't visit me as well. However, that doesn't mean we can't do recording together. If you have a DAW audio interface, I can connect with it to do REAL TIME music recording with you.
I use Steinberg's Cubase which has the capability of establishing an audio/video internet connection for recording. Now my out-of-state client can work on his vocals with me as I sit in my office. There is no fee for the software or connection on the client's end – just my regular engineering fee. So call for details and ideas, or email me at chris@rhlaudio.com.
Professional Recording in Your Home
Professional home recording is easier than ever, and helps keep the budget under control. Whether it's a CD for commercial release, a "demo" recording for an artist or band, or a school or music camp audition, it can be done in the comfort of home.
But it takes more than just buying a computer, some audio software and hardware, and a few microphones. It's no different than buying word processing software, and then expecting to be able to write something that compares to a Stephen King novel. The software, hardware, and microphones are tools, but developing the skills to create a professional, polished recording takes years of practice and experience. 
That's what I do. I've been dong home recording for 17 years now. I've been called the "country doctor" of recording because I make house calls. Over half of my business every year are recording sessions done in homes.
In 2001, after working for 18 years as a staff engineer at four different recording studios in the Washington DC area, I became a freelance engineer. I quickly discovered that there were a lot of musicians that wanted to do recording in their home. It's a very comfortable place to work, and has many advantages such as home cooking, no travel, pet companionship, and can save a lot of money if done correctly.
So I created a mobile system that works equally well in both studio and home recording situations. I bring my large microphone collection that rivals or surpasses many studio mic closets. I also provide an extensive collection of mic pre-amps including some units that appear in only the very best studios, giving my recordings a superior sonic advantage. Much of my equipment is listed on my gear page. For my home recording sessions, I use the same gear that I use in a studio, and I charge $45 per hour.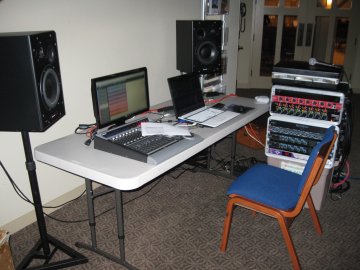 I start each home recording project with a production meeting that is
free of charge. We'll meet in the home or space where you want to do your project, and discuss how to make it happen. For example, we'll decide where to set up the "control room" area for our listening, evaluating, and discussions, and where the musicians' performance spaces will be. Discussions will cover aspects of the entire project, such as; the order for recording parts, scheduling days and times for recording, meal planning, and the procedure for mixing. If needed, we'll evaluate whether it would be better if we used a commercial studio for part of the project. If I think that the selected recording space is not suitable, I'll tell you what I'm thinking, why I'm thinking it, and what possible solutions exist.
Professional Home Recording rate is $45/hour
Sometimes it's more practical for at least part of a project be recorded in a commercial studio. If the rhythm section includes drums, bass, and electric guitars, it's often best to record them in a regular studio because they are designed to handle and control that amount of sound. But it's not necessary to record EVERYTHING there. After we complete the rhythm tracks, we can go to the artist's home to do acoustic guitars, keyboards, vocals, percussion, and any other overdubs that are needed. If the artist has a piano at home, I have the mics and mic pre-amps that can make their piano sound it's best. Working in these different places make the entire recording process more cost effective.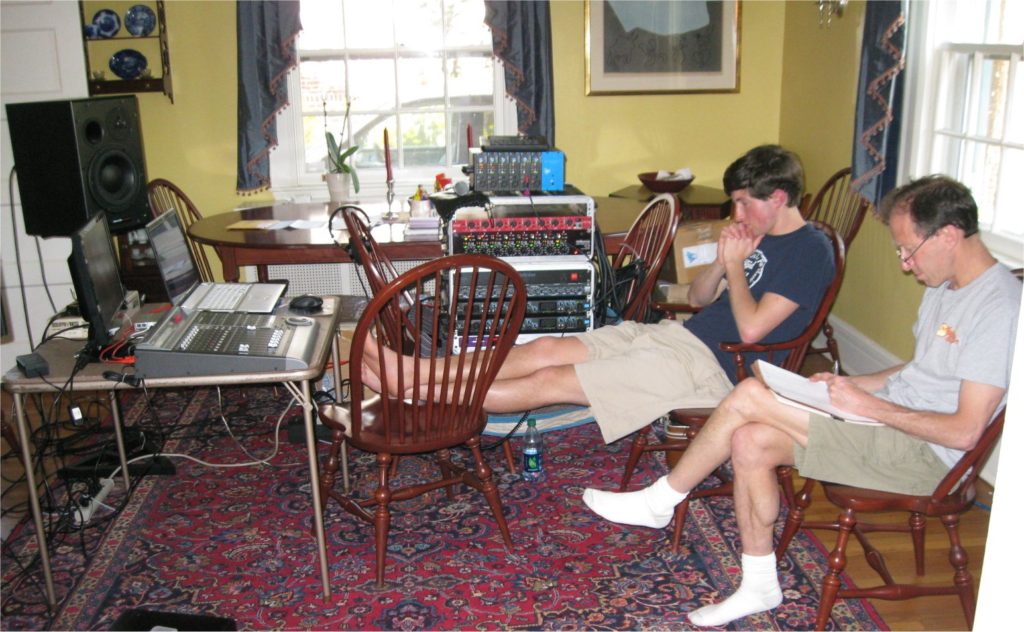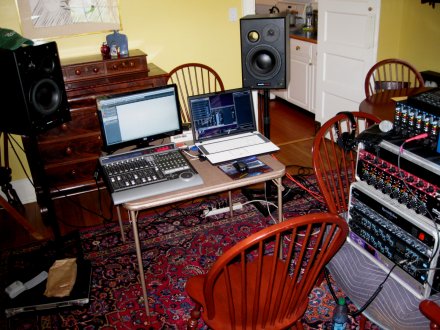 A major advantage to home recording  is my price, which helps with your budget. When you are a musician, it's ALWAYS tough economic times. I've been working as a recording engineer for over 30 years, and budgets have always been a concern. Recording in your home for $45/hour is a great value because it includes my experience and equipment.
So drop me a line or give me a call about your home recording project. If I don't answer when you call, it's probably because I'm doing a session at someone's home. I'll get back to you when we take a break. Looking forward to hearing from you.