Free Lance Audio Recording Engineer
Recording real musicians playing real instruments is a specialty of mine. And I can do this at almost ANY location you choose. I've been a  professional audio recording engineer for over 30 years. I worked for 18 years at four different studios in the Washington DC, Virginia, Maryland area. But now, as a free lance engineer, I can record you wherever you want to work.
Nominated for WAMA
"Best Studio Engineer"
2004, 2006, 2007, 2008,
2010, 2012, 2013!
There's a big difference between making a recording, and making a RECORD. Of course, a microphone and a computer (cell phone, tablet, etc.) can make recordings. But it takes an experienced, skilled person to make a record that sounds great.
With today's affordable, digital audio recording gear, it's no longer necessary to use a traditional recording studio for CD quality results. However, just because good audio recording gear and software is available, this doesn't mean anyone can make a broadcast quality product. That takes a set of skills developed with years of experience. Because those skills don't come with the software, nor are they available as a plug-in!
Nominated for WAMA
"Best Producer"
2009, 2012!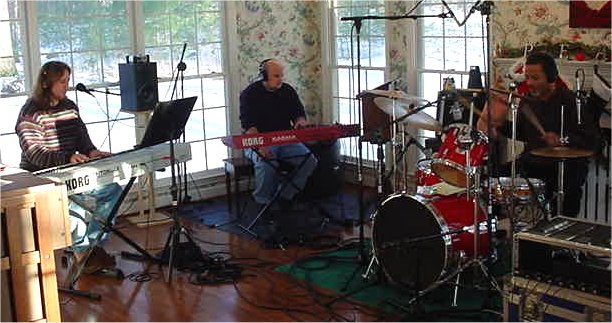 Microphones by:
          Neumann
          DPA
          Schoeps
          Sennheiser
          Royer
          Earthworks
          Milab
          AKG
RECORD AND MIX ALMOST ANYWHERE
I record and mix at the location you choose. For example, a studio, a rehearsal space, your own home, a live performance – you choose! Additionally, I can assist you in choosing recording studio or location that's best for YOUR project. Then, the gear I use in the studio is the same gear I use for all my sessions. Using some of the finest microphones, mic pre-amps, and outboard gear, I make studio-quality recordings almost anywhere. 
Whether it's studio or location audio recording, work with an experienced independent engineer. It's what the major label artists do. And it's more affordable than you might think. After recording and producing for 30+ years, I bring a level of experience and knowledge to my sessions that few engineers can match.
Mic Pre-amps by:            
API            
Millennia            
Demeter            
Focusrite            
Neve            
Earthworks            
Home Studio Consulting and Engineering Lessons
Another service I provide is home studio consulting to help you improve your own recordings. This includes personalized DAW and audio engineering lessons on your own gear. During the pandemic,  I began teaching lessons remotely using Team Viewer, and now I have regular clients all over the US.
I can assist you in recording your project on your own system. Additionally, I can supply extra mics and other equipment to help your home recordings sound more professional. 
I also provide instruction and trouble shooting for PA systems for bands, churches, synagogues, schools, or any permanent audio installation.